Congratulations to Joe Angelo for getting 100% on today's safety pop quiz. He also correctly answered the bonus questionGonflables Noël.
CONGRATULATIONS to Team 1517, Bishop Brady Robotics from Concord, New Hampshire! This team found ALL of the items in our Safety Scavenger Hunt challenge at the World Championship competition in Atlanta, Georgia. Additionally, this team is not only the only team to have found all of the items, throughout the 3 Regionals and Championship event we've attended but they are also the ONLY team throughout this season to answer the bonus question 100% correct as well! For their efforts, they won the cute, cuddly and commemorative "Conner, The Safety Bear" plush pal (with accessory first aid backpack) – Championship EditionInflatable Boats. This team proved that they are truly "GIANTS" of safety awareness!
Let the matches begin! Today, our whole team woke up bright and early to stand outside the Edward Jones Dome (where the event is taking place). Also, the official opening ceremony took place, featuring a video from our president Barack Obama and the founder of FIRST, Dean Kamen. First has been trying to expand to all types of teens and kids by utilizing the famous former member of the Black Eyed Peas, WILL. I. AM.
The excitement is escalating by the minute. After every match, we have been getting better and better. Here are the scores:
Q14:         Red: 48       364  5052  145   Lose
10:18AM Blue: 5310  997  3260  146  
Q25:         Red: 5016  78    910     251   
11:24 AM Blue: 1983 48    120     132    Lose
Q47:         Red: 4500 133   48      161    Lose
2:36 PM    Blue: 971   314   846    225
Q59:         Red:  48     2614  25     189   Win
3:48 PM    Blue: 190  4941   1305 100
Q83:         Red: 5136  5190   3928  167
9:42 AM    Blue: 3238  1507  48      136 Lose
Q99:          Red:  1640  1126  2877  145
Hello its time to…
Aerial Assist!
We just recently arrived in Saint Louis for the World Championship after finding out a week prior to the event. During our downtime, we spent it touring the Saint Louis Zoo, and went to the Edward Jones Dome (which is the location of the venue for the Championship) to do pit setup and practice.
The pits were roaring with people from as far as the Israel and Denmark, and then people who are from the good old U.S.A. We started out the day strong and finished it out even stronger. The first day was b00ming with excitement for more matches to come.
Tune in tomorrow for another update on Team 48.
Delphi.. ELITE!
Let the fun begin! Our Team got up bright and happy this morning to gear up at the U.S. Cellular Arena (where the regional is commencing) to set up, and prep our robot. After a whole day setting up and making sure our robot is pristine, we were ready to commence the matches, during which we also had to pass two inspections, for our pit and our robot. The inspections are to ensure that we reach their safety expectations, such as always wearing safety glasses in the pits. The reasoning that FIRST gives us the extra day is to ensure that the robots are working and that everything is in order.
We started the day off breathtaking, as usual, with us winning with a score of 121. Throughout the day though, we were experiencing some wiring problems, which our Drive Team fixed amazingly before the end of the day. We won the last two matches at 186 and at 132.
Tune in for more updates on our progress in the next few days.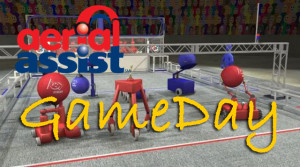 Catch our team in action this weekend as we compete in Wisconsin.
Wisconsin Webcast: http://5nines.com/FRC
Wisconsin Match Schedule: www.frclinks.com/e/s/wimi
Keep track of team rank and statistics: www.atthecontrol.com
Other Webcasts Available Via: www.thebluealliance.com/gameday
A few of our friends from NEOFRA are competing at the buckeye regional, and you can catch them on gameday.
Get text notifications of upcoming matches and results: www.frcmega.com - FREE REGISTRATION REQUIRED
Hello fellow robotics nerds! We just recenctly left for our Wisconcin Regional at the U.S. Cellular Stadium. But yesterday, we went for a little pitstop at The Institute of Science and Industry in Chicago, IL. We also stormed through downtown Chicago, passing the Sears Tower and other amazing monuments.
Whats the Institite of Science and Industry you say? Well, its a Museum that encourages young people to take an intrest in having a profession in Engineering, Science, and Mathematics. It also displays a Testacoil, which shows a presentation of lightning which generates 1.5 Million watts of electricity, but only costs as much as a major appliance to run. The museum showed intricate displays of Human Life, Historic Submarines, NASA Ships, Aquatic Life, and Chemical Reactions.
The Team also got to see amazing landmarks, such as Lake Michigan and the Chicago River.
After a challenging day of practice, the Team went to an area mall to celebrate our seniors at a dinner.
Tune in for more updates on the competition! Delphi…ELITE!
Hello fellow robotics nerds! We are pleased to say that we have been home from the Indiana Regional for the last couple days, and we are also excruciatingly excited to tell you all about it! Some fellow Team 48 members went on a journey into the deep depths of the pits to ask FIRST Team members a few questions.
A couple members of Team 4272 were very excited to be participating, since it is their teams first year being at a Regional, and being a team.
"The people are great, and they show such good integrity towards everyone. We are so happy to be a part of something like this."

-Team 4272
Also, members of Team 1038 were pumped, since it was their fourth year as a robotics team and being at a Regional.
"It can be a little stressful at times, but the ending of it is worth all the hard work we put in."

-Team 1038, The Thunderhawks
Tune in for more updates on the Team and about the next trip.
Underwriters Laboratories at every regional that is hosted by FIRST issues an award called the "Safety Star of the Day" given to the safest individual that they see in the pits at the regional.
…What is Underwriters Laboratories you ask?
UL (Underwriters Laboratories) is a safety consulting and certification company headquartered in Northbrook, Illinois. UL was established in 1894 and has participated in the safety analysis of many of the last century's new technologies. It now provides safety-related certification, validation, testing, inspection, auditing, advising, and training services to a wide range of clients including the robotics competitions issued by FIRST. Knowing this, the team member at the regional who wins this prestigious award evidently demonstrates exceptional safety procedures, encourages the growth of safety to other teams, and of course, NEVER is seen without their safety glasses!
The Safety Star award is given for the three simultaneous days that the teams are at the regional: Thursday, Friday, and Saturday. The safety judges, while keeping a close eye on everyone in the pits, finally made their decision for Thursday's Safety Star of the Day. Not only did one individual from our team win, but our team as a WHOLE won the UL (Underwriters Laboratories) safety award! Our countless demonstration of Safety appreciation on our team and our unique usage of safety escorts through the pits allowed us as an entire team achieve this outstanding recognition and honor.
Since the judges had to designate the one "safety recognition pin" to a single team member, they chose both our safety captains: Justina Gazso and Devonte Parker. Congratulations to our Safety team and very special shout out to Donnell Conner, our remarkable safety mentor, who works persistently to make our team ASAP (A.s S.AFE A.s P.ossible)!!
The inaugural ceremony has commenced! Team 48's regional to Terre Haute, Indiana is up to a stellar start. Today our whole team woke up bright and early to come stand outside the Rose-Hulam Institute of Technology (where the Crossroads Regional is taking place) to arrive here for a prompt Friday morning setup so we are confident and ready for all the competitions the day has to offer. After a whole day of setting up for this competition the day before, we are all equipped with the best tools in order to Aerial Assist! Each regional we attend in our robotics season, we must pass both a pit and robot inspection before the action the following day. This is only to ensure that everyone is abiding by the basic FRC rules and regulations that the game entails. This is exactly why FIRST includes a day of practice and set up, so that the next day all the robots are not only prepared, but excited for the days that come.
                Our first day of matches here in Indiana are going quite smoothly. For a list of results of our matches that we accomplished today, look below at the convenient table put together for easy access.
                Stay tuned in for more information that's in store for our team at this exciting regional! Oh and by the way, check out the Blue Alliance web page for the full list of 2014 FIRST events and also where you will find the most accurate webcast to catch our team in action!
FYI, if you would like a full list of the actual up to date rankings of the whole Crossroads Regional visit their website at: http://www.usfirst.org/roboticsprograms/frc/regional-events. This will take you directly to FRC rankings page where you will be updated constantly on each individual match! Happy battling.