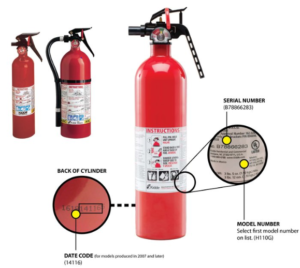 Recall date: November 2nd,2017
Kidde has recalled more than 40 million fire extinguishers used in homes, vehicles, and boats. the extinguishers can become clogged or require excessive force to discharge and can fail to activate during a fire. in addition, the nozzle can detach with enough force to pose an impact hazard.
This recall involves two styles of fire extinguishers: plastic handle extinguishers and push-button extinguishers. this involves more then 134 models  of Kiddle fire extinguishers manufactured between January 1st, 1973 and august 15th, 2017, including models that were previously recalled in march 2009 and February 2015. the extinguishers were sold in red, white, and silver, and are either ABC- or BC- rated.
Consumer Contact:
Kiddle toll-free at 855-271-0773 from 8:30a.m. to 5 p.m. ET Monday through Friday, 9 A.M. to 3 P.M. ET Saturday and Sunday, or online at www.kiddle.com and click on "Product Safety Recall" for more information.